At Fresno science fair
Robot wins awards for Bob Berry
"As technology advances, there will be a need for computerized robots," said Bob Berry, the Reedley High School senior who won seven swards at the Fresno County Science and Engineering Fair. The event was held at the Fresno Convention Center last week.

The awards won by Berry include: Senior Division Outstanding Achievement; National Aeronautics and Space Administration award; U.S. Air Force award; U.S. Army award; Cal-State University, Fresno, School of Engineering award, and CSUF $500 scholarship award.

Berry was one of the two outstanding senior high school student exhibitors at the fair. His science teacher is Don Edwards. Berry said he started working on his robot last September and has put many hours into his computer project.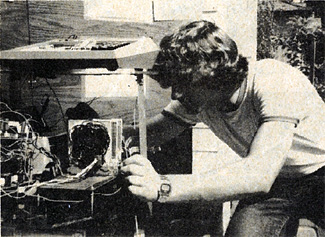 BOB BERRY IS pictured with his computerized robot which won him seven awards at the Fresno County Science Fair last week. The structure moves about on four rubber tire wheels which are directed by the computer system located on the top of the robot.
The computerized robot is programmed telling it where it is, where it's supposed to go and how to get there. Berry says that in the event it hits an obstacle, the robot will maneuver around and then get back on course to its destination.

When Berry was in the sixth grade he studied electronics. But, it was in the seventh grade when he read Issac Asimov's book entitled, "I Robot," that he became enchanted with the idea of robots becoming functional and part of the science field which could be used to benefit people. Berry visualizes computerized robots being programmed to direct wheel chairs, with patients, within a patterned area. "I plan to enter the field of electrical engineering in computer science," said Berry. "I want to work on robotics in simulated intelligence." Berry plans to attend the University of California at Irvine.